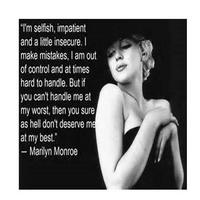 l_want_to_ride_your_harley
Relationship status
:
in a relationship
Looking for
:
entertainment
LIKE THEE SONG SAYS: IT'S MY TURN NOW!
Something about me
About me
Life is too short to sweat the small stuff. I am looking for fun and people I do not have to ride my bike over for being jerks.
Interests
Bikes, Pool, Interesting people
Favorite movies
El Dorado
Favorite music
Nearly anything ICP or Johnny Cash
Things I like
Bikes, nice people, warm sunny days, oceans, cats, children that I can give back to their mothers when they act up. lol
Things I don't like
Bullies, Dishonest mechanics, rainy days, Flat tires when I am in high heals.