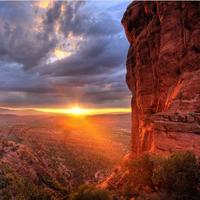 It is decided
   Well I saw the electrologist and after talking to him. I have decided to have the ablation.  He answered all my questions, and I looked him up on line he has all good reviews and no bad ones.
One thing that does make me a bit nervous though is he wants me to let them put this thing in my chest to monitor if I go into afib after the procedure,  He said that way he could take me off the blood thinners. I really do not like the idea of anything with a battery being put inside my body, but my brother went with me to the appointment, and he thinks it is a good ideal to have the monitor put in. Apparently the battery in that will last for 4 years, but they really only need to keep an eye on it for a few months to see if the procedure worked. 
   I really hope it will work.  Now it is a waiting game to see when they can get me on the schedule, and I will have to get a ct scan before the procedure.  I was in normal rhythm when i went to the doctor.  I told him I knew that I can tell by the feel of it when I go into afib, and I knew I was not in it at that time.   I am just hoping I can keep it that way till they can get me scheduled.
I just know I can not go on like this. They need to do something. I am scared , but if it works it will be worth all the anxiety and pain it takes to get there. Thank you all for your input and prayers I appreciate it.